DEALER'S CUP – DISCOVER THE DARK SIDE OF (DIS)ORGANIZED CRIME
A board game to enjoy! With Dealer's Cup you enjoy each other's company, but in the meantime you're also a ruthless dealer. Buy your cargo and sail or fly to the other side as quickly as possible for your sale.
Dealer's Cup is a physical board game for 2-6 players ages 18 and up. You fictitiously purchase weed or hashish and fictitiously sell it again. During your journey, you encounter various obstacles such as the Tax or Immigration Administration. Steal the cargo from your fellow players and prevent the same from happening to you. Meanwhile, enjoy yourself on Pot Island!
MAKE YOUR BIGGEST CANNABIS DEALS
without legal side effects
Dealer's Cup is thé board game for cannabis enthusiasts. The objective is actually quite clear, because you simply have to make sure that you fill your Cargo list as quickly as possible and sell the required quantities of Moroccan, Afghan, Ganja and Homegrown. However, before you can sell it, you have to buy it and it's not all that simple. On your way to your purchasing countries and sales cities you'll encounter various obstacles and your fellow players can steal your cargo!
During your purchase and sales trips you may run into tax or immigration authorities, you may have to pay for rainforest maintenance, you may lose your Visa or Cargo cards or you may have the misfortune that a fellow player steals your cargo. After that, be a hero yourself for stealing someone else's cargo! In the meantime, you may end up on a (SH)IT Happens space and then you may take a Shit Happens card. These cards give you SHIT or IT, or unpleasant or awesome.
Travel from Jamaica to Amsterdam, from Mexico to New York or from any of the other countries and cities. In addition, you can have the misfortune to end up in jail or the luck to be allowed to chill on Pot Island taking all the cash!
Click here for the English manual (PDF, 3,8mb)
Click here for the Dutch manual (PDF, 1,3mb)
Click here for the German manual (PDF, 3,8mb)
Number of players: 2 – 6 players
Age: 18 years and older
Playing time: 1 – 2 hours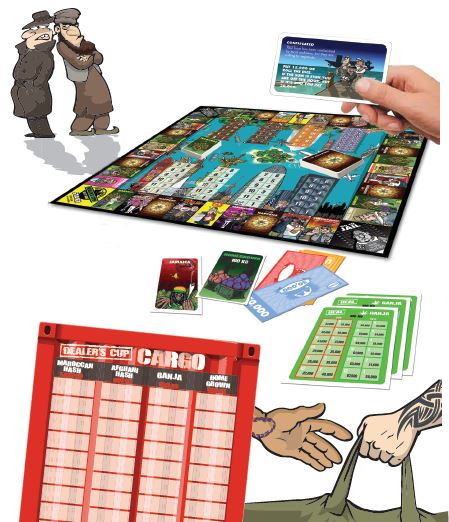 Content game box:
1 Rubber Play Mat
8 Game figures with holder
6 Ships (card holder)
2 Dice
27 Deal cards
3x 40 Shit Happens cards (English, German, Spanish)
28 Green Visa cards
28 Red Visa cards
35 Harvest cards
200 Money Tickets
6 Cargo cards
1 Marker pen
4x Game Manual (Dutch, English, German, Spanish)